Villa Triton
A few words about the Villa Triton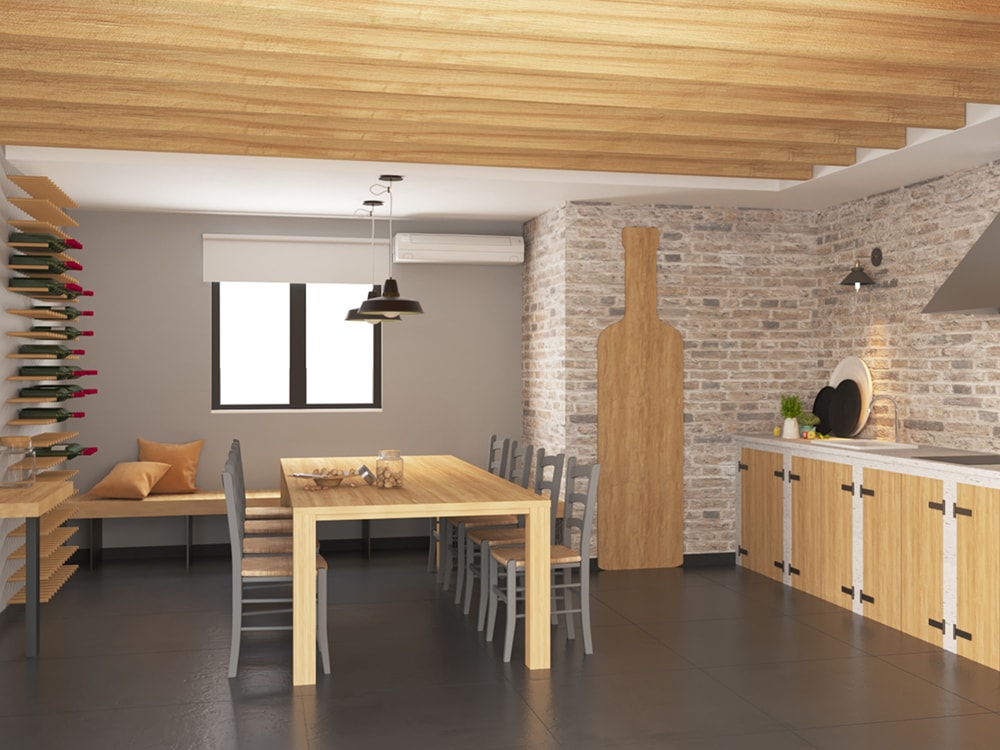 Offering an outdoor swimming pool with sun loungers and parasols, Villa Triton is surrounded by greenery in Snašići, 4km from Labin and 10km from the Beach (Rabac). Sauna and fitness area are also provided. Free WiFi is featured.
There is a dining area and a kitchen complete with a dishwasher, an oven and microwave. Towels and bed linen are provided in this self-catering accommodation.
Villa Triton also comprises a wine cellar built in traditional Istrian style with a kitchen and a barbecue.
You can play darts, table tennis, mini football, badminton at the property, and the area is popular for cycling. Villa Triton provides free private parking available on site. Rovinj is at a distance of 60 km and Pula is 50 km from the property. The nearest airport is Rijeka Airport, 43 km from the property.
Information about facility
As part of the "Ville" Triton there are 4 bedrooms each with its own bathroom with a toilet and a large shower. Free internet access is available throughout the property. Within each room there is a safe for valuables. In the courtyard there is a gazebo with a fully equipped barbecue located next to the pool. Also at the pool there is a sun deck with lounge chairs and umbrellas and a solar shower. There are also some high-quality bicycles for both children and adults with whom you can visit a number of marked bicycle routes. With all the above so far we have more table tennis, badminton, volleyball ... maybe we forgot to ask .... and your wishes will be fulfilled! You just have to book your date of arrival and the rest to us!
Villa for eight people
Four stars
This host will welcome you in English
Free private parking
Prices you can't beat!
Pets are not allowed
Booking is safe
No smoking throughout the facility
Entertainment and family services
Children up to 2 years in cot is free of charge
Amenities
The service is available in the following languages: Slovak, Polish, Italian, Croatian, English, German and Czech
Facilities of Villa Triton:
Free WiFi
Air conditioning
Outdoor pool
Sauna
Car hire
Flat-screen TV
Barbecue
Private entrance
Soundproof rooms
Heating
Child safety socket covers
Kids' outdoor play equipment
Children television networks
Bikes available (free)
Airport shuttle (surcharge)
Garden view
Pool view
Detached
Table tennis
Darts
Squash
Tea / Coffee Maker
Wine or champagne
Patio
BBQ facilities
Terrace
Outdoor furniture
Outdoor dining area
Safety Deposit Box
Ironing Facilities
Tile / Marble floor
Clothes rack
Iron
Radio
TV
Telephone
Satellite Channels
Seating Area
Fireplace
Sofa
Dining area
Toilet
Shower
Additional Toilet
Additional bathroom
Linen
Toilet paper
Shower
Hairdryer
Towels
Wardrobe/Closet
Children's cots/cribs
Refrigerator
Microwave
Dishwasher
Washing Machine
Electric kettle
Kitchenware
Oven
Stovetop
Coffee machine
Dining table
Children's high chair
Wine glasses
Prices and availability
Period
01.04.2023 - 12.05.2023
13.05.2023 - 09.06.2023
10.06.2023 - 30.06.2023
01.07.2023 - 07.07.2023
08.07.2023 - 14.07.2023
15.07.2023 - 18.08.2023
19.08.2023 - 25.08.2023
26.08.2023 - 01.09.2023
02.09.2023 - 22.09.2023
23.09.2023 - 31.10.2023
Day
01.04.2023 - 12.05.2023
220.00 €
13.05.2023 - 09.06.2023
280.00 €
10.06.2023 - 30.06.2023
380.00 €
01.07.2023 - 07.07.2023
400.00 €
08.07.2023 - 14.07.2023
470.00 €
15.07.2023 - 18.08.2023
550.00 €
19.08.2023 - 25.08.2023
400.00 €
26.08.2023 - 01.09.2023
380.00 €
02.09.2023 - 22.09.2023
280.00 €
23.09.2023 - 31.10.2023
220.00 €
Week
01.04.2023 - 12.05.2023
1540.00 €
13.05.2023 - 09.06.2023
1960.00 €
10.06.2023 - 30.06.2023
2660.00 €
01.07.2023 - 07.07.2023
2800.00 €
08.07.2023 - 14.07.2023
3290.00 €
15.07.2023 - 18.08.2023
3850.00 €
19.08.2023 - 25.08.2023
2800.00 €
26.08.2023 - 01.09.2023
2660.00 €
02.09.2023 - 22.09.2023
1960.00 €
23.09.2023 - 31.10.2023
1540.00 €
Availability calendar
April 2023
| | | | | | | |
| --- | --- | --- | --- | --- | --- | --- |
| Mo | Tu | We | Th | Fr | Sa | Su |
| 27 | 28 | 29 | 30 | 31 | 1 | 2 |
| 3 | 4 | 5 | 6 | 7 | 8 | 9 |
| 10 | 11 | 12 | 13 | 14 | 15 | 16 |
| 17 | 18 | 19 | 20 | 21 | 22 | 23 |
| 24 | 25 | 26 | 27 | 28 | 29 | 30 |
May 2023
| | | | | | | |
| --- | --- | --- | --- | --- | --- | --- |
| Mo | Tu | We | Th | Fr | Sa | Su |
| 1 | 2 | 3 | 4 | 5 | 6 | 7 |
| 8 | 9 | 10 | 11 | 12 | 13 | 14 |
| 15 | 16 | 17 | 18 | 19 | 20 | 21 |
| 22 | 23 | 24 | 25 | 26 | 27 | 28 |
| 29 | 30 | 31 | 1 | 2 | 3 | 4 |
| 5 | 6 | 7 | 8 | 9 | 10 | 11 |
June 2023
| | | | | | | |
| --- | --- | --- | --- | --- | --- | --- |
| Mo | Tu | We | Th | Fr | Sa | Su |
| 29 | 30 | 31 | 1 | 2 | 3 | 4 |
| 5 | 6 | 7 | 8 | 9 | 10 | 11 |
| 12 | 13 | 14 | 15 | 16 | 17 | 18 |
| 19 | 20 | 21 | 22 | 23 | 24 | 25 |
| 26 | 27 | 28 | 29 | 30 | 1 | 2 |
| 3 | 4 | 5 | 6 | 7 | 8 | 9 |
July 2023
| | | | | | | |
| --- | --- | --- | --- | --- | --- | --- |
| Mo | Tu | We | Th | Fr | Sa | Su |
| 26 | 27 | 28 | 29 | 30 | 1 | 2 |
| 3 | 4 | 5 | 6 | 7 | 8 | 9 |
| 10 | 11 | 12 | 13 | 14 | 15 | 16 |
| 17 | 18 | 19 | 20 | 21 | 22 | 23 |
| 24 | 25 | 26 | 27 | 28 | 29 | 30 |
| 31 | 1 | 2 | 3 | 4 | 5 | 6 |
August 2023
| | | | | | | |
| --- | --- | --- | --- | --- | --- | --- |
| Mo | Tu | We | Th | Fr | Sa | Su |
| 31 | 1 | 2 | 3 | 4 | 5 | 6 |
| 7 | 8 | 9 | 10 | 11 | 12 | 13 |
| 14 | 15 | 16 | 17 | 18 | 19 | 20 |
| 21 | 22 | 23 | 24 | 25 | 26 | 27 |
| 28 | 29 | 30 | 31 | 1 | 2 | 3 |
| 4 | 5 | 6 | 7 | 8 | 9 | 10 |
September 2023
| | | | | | | |
| --- | --- | --- | --- | --- | --- | --- |
| Mo | Tu | We | Th | Fr | Sa | Su |
| 28 | 29 | 30 | 31 | 1 | 2 | 3 |
| 4 | 5 | 6 | 7 | 8 | 9 | 10 |
| 11 | 12 | 13 | 14 | 15 | 16 | 17 |
| 18 | 19 | 20 | 21 | 22 | 23 | 24 |
| 25 | 26 | 27 | 28 | 29 | 30 | 1 |
| 2 | 3 | 4 | 5 | 6 | 7 | 8 |
October 2023
| | | | | | | |
| --- | --- | --- | --- | --- | --- | --- |
| Mo | Tu | We | Th | Fr | Sa | Su |
| 25 | 26 | 27 | 28 | 29 | 30 | 1 |
| 2 | 3 | 4 | 5 | 6 | 7 | 8 |
| 9 | 10 | 11 | 12 | 13 | 14 | 15 |
| 16 | 17 | 18 | 19 | 20 | 21 | 22 |
| 23 | 24 | 25 | 26 | 27 | 28 | 29 |
| 30 | 31 | 1 | 2 | 3 | 4 | 5 |
31

Previous - next month

3

Closed

14

Available

22

Reserved